Day 1-(4 February 2020)
---
Under the auspicious guidance of NATIONAL SERVICE SCHEME unit of Sandip foundation's ,Sandip institute of pharmaceutical sciences, Sandip institute of technology and research science, & Sandip institute of engineering and management ,Nashik hereby made a 7 days camp from 4 feb 2020 to 10 feb 2020.
The camp was blessed with the participation of 150 students from all 3 institutes . It was conducted in village Jategoan , Nashik in association with the Jategoan gramapanchayat .
The camp started at 10:00 am .Inauguration by principals of SITRC and SIEM and followed by Upsarpanch ,Jategoan. Welcome speech given by Prof.Santosh Katkade Sir,prof.Mahajan sir(staff coordinator SITRC &SIEM) & Dr.Deepak patil sir (Principal SIEM) and DR.Gandhe sir ( Principal SITRC) .
Grouping done by both staff coordinators , so that interaction between the students of all 3 institution regarding work together and coordination amongst themselves.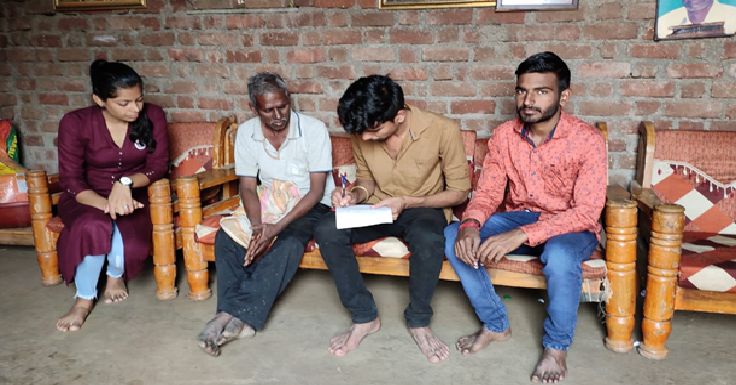 Survey of village by students regarding educational background of families ,total number of members, sex ratio, annual income etc.
Staff from SIPS – Dr.Swati Talele madam & R.T.Mogal sir
After doing all task designed to be done by day girls with the staff teacher sent to college by college transportation from the village around 4;30 pm .
DAY 2-(5 February 2020)
Breakfast -Upma
Staff- Mogal sir &Megha madam
The day was started with the cleanliness drive. The cleaning of wells, primary healthcare unit, drainage, Rajwada area,Grampanchayat, upper & lower parts area of the village.
Invitation to the teenager girls ,women& pregnant ladies for the ''Menstrual Health & Hygiene camp '' held at Z.P. school on next day.
Painting of pictures and educational information on walls of the Z.P. school.
Lunch- cabbage, rice, chapati
Eco friendly paper bags making workshop by Abhimanyu (SIEM).
Distribution of paper bags to villagers.
Snake bite management session – by Dhiraj and Jayesh (SIEM) students )
About 4;30 pm girls sent to college via buses with staff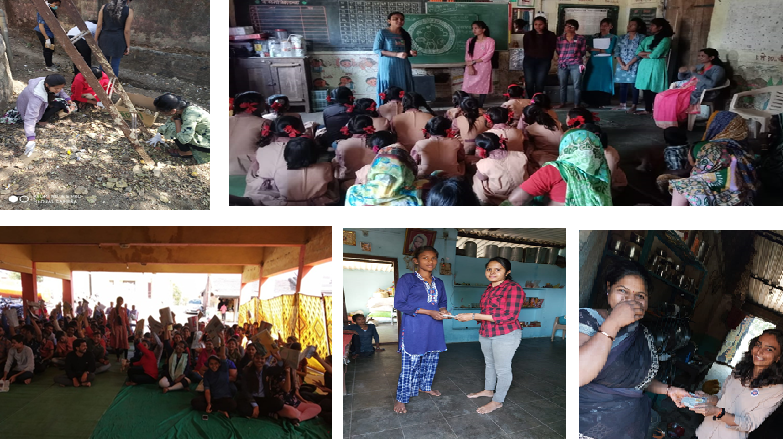 Day 3-(06 February 2020)
Breakfast- poha
Staff- Gedam madam
Pledge on save environment &maintain hygiene at Z.P.school(1 to 7 th)
"'Menstrual Health & Hygiene& Awareness session' at Z.P.school for teenager girls and women .
Session for pregnant women (home to home)
Donation of sanitary napkins & session on family planning by SIPS students .
Lunch -bengan masala & rice ,chapati
Session – ''Art of living ''by art of living teacher , Nashik.
Girls sent to college by bus around 4:00 pm along with staff member.
Day 4- (07 February 2020)
Breakfast-Poha
Rally for awareness save water, save environment , Health & Hygiene
Drainage cleaning
Cleaning of dumping ground
Lunch – mix bhaji , masala bhat and chapati
Superstition awareness session (by Krushna Chundgude)
Girls sent to college by bus around 4:30 pm along with staff member
Day 5 –( 08 February 2020)
Breakfast- sabudana khichadi
Van Vihar and cleaning of area around Dam.
Teaching to school students by engineering students.
Cleaning of area near school .
Meeting with medicinal officer Dr. jaybhave sir regarding health check up camp & counselling camp .
Lunch – Usal , Dal and rice
Motivational lecture by Miss. Harshada Bezekar (NGO,women empowerment)
Girls sent to college via college bus along with the staff around 4:15 pm.
Day 6 – (09 February 2020)
Breakfast – upma
Health checkup camp at aanganwadi (Hb ,BP,BMI) and patients counselling by pharmacy students and survey by engineering students
Lunch- mix veg, dal rice and chapati
Lecture on stress management by Dr.Nilesh Jejurkar sir (Head of department Psychiatry) civil hospital ,Nashik
Girls sent to college around 4:15 pm along with the staff member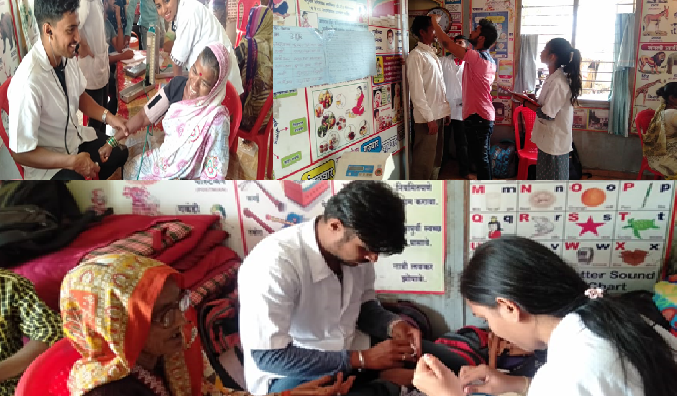 Day 7- (10February 2020)
Breakfast – Pohe
Cleaning of area with has left in the last 06 days remained to be cleaned ,
As it was last day of NSS camp 2020
Chief guests- Principal of SIPS (Dr.A.G.Jadhav sir) -speech
Principal of SIEM(Dr.Deepak patil sir)- speech
Police patil of Jategoan
Kirtankar Sahane Maharaj – Speech
Dr. Jaybhave sir (Medical officer)
T.D.Patil sir (SITRC)
Dr.L.B.Borse sir (SIPS)
Pen as token of love to the beloved passed out students and final year volunteers and coordinators of NSS 2019 given by Sandip  foundation.
Appreciation of the best volunteers from all three institutes (SIEM,SIPS,SITRC)
Best girl volunteer – miss. Chaitrali Ghagas
Best boy volunteer -Mr. Jagdish Shirsath
Lunch- puri ,paneer,veg biryani & gulab jamun .
Records verified from ASHA( accredited social health activists ) of sanitary napkins , BMI of pregnant women and teenager girls .
Experience of the NSS memories shared by the students .
And here the NSS 2020 Camp ended with all the valuable experience, social & emotional memories.